New Magazine for the Creatives
came across this tonight..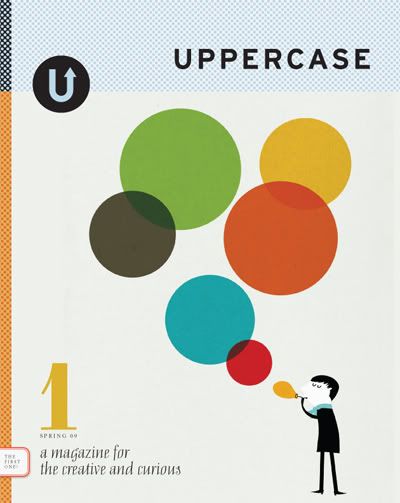 What they say about themselves:
We're inquisitive:
learning from other artists, illustrators, designers, photographers, filmmakers and musicians, whether they're upstarts or icons, famous or shy, verbal or visual.

We're inspired:
enchanted by great ideas and strange inventions; by colour and pattern; things fancy and frugal; the charm of vintage in a modern life; the ridiculous and the sublime.
We're adventurous:
traveling to destinations both real and imagined, peeking into creative spaces and discovering magnificent people and memorable places.
We're eclectic:
curating souvenirs, collecting treasures and celebrating the extraordinary in the everyday.
We're playful:
delighting in visual amusements, intelligent distraction, entertaining wordplay and sweet indulgences.
We're UPPERCASE:
a magazine for the creative and curious!
This quarterly magazine is 84 pages of glorious print on paper, 8.75″ x 11″ perfectbound. The Spring issue is shipping now followed by Summer (July 2009), Fall (October 2009) and Winter (January 2010). | Visit Uppercase Magazine